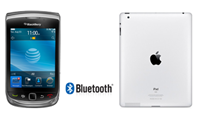 Met bayalink ben je op dit moment in staat om met een pc of laptop, direct te werken op je blackberry. Via bluetooth heb je toegang tot de blackberry kalender, mail, contacten en de internet connectie. Het is natuurlijk erg handig om te kunnen werken met een volledig toetsenbord en scherm, vooral voor zakelijk gebruik heeft dat vele voordelen. Nu kondigt bayalink aan dat er ook een versie voor de iPad gaat komen. Dit is een interessante ontwikkeling, zeker in het licht van de toekomstige release van de blackberry playbook, waar deze integratie natuurlijk ook aanwezig gaat zijn. De vraag is natuurlijk, of de playbook meer functionaliteit gaat bieden dan bayalink via iPad. In ieder geval kunnen blackberry bezitters met een iPad in hun handjes gaan knijpen. Persbericht in het bericht.
Bayalink Announces a BlackBerry® connector for iPad®
Bayalink Solutions Corp., a leader in SmartPhone application virtualization announces today that their flagship product Liberty will support iPad Tablets. Bayalink LibertyTM is a solution for the BlackBerry smartphone that provides the BlackBerry smartphone user with an option to interact with select BlackBerry smartphone applications on larger display devices such as laptops and PC's and soon the iPad (followed by Android tablets). "Since launching over 2 years ago, thousands of BlackBerry users subscribe to use our unique patent pending Liberty product to interact with their BlackBerry using a large screen and keyboard" said Trevor Dietrich, VP and Co-Founder of Bayalink. "The movement towards tablets and more specifically the iPad is a natural step in our endpoint independent strategy to support BlackBerry users on all end user computing devices."
Liberty for iPad will be a really simple, easy, safe and cost effective way to read and reply to corporate emails on the iPad without the enterprise data ever being at rest.. Think of Liberty as a bridge between the BlackBerry and the iPad.
Bayalink Liberty gives iPad users unique capability to securely connect to their BlackBerry data and interact with that data using the tablets screen and keyboard similar to how the Liberty technology has been used by enterprise customers for years on the PC, laptop and notebook. In subsequent releases, users will be able to surf the internet or intranet through the BlackBerry (with no VPN required) on a disconnected iPad via their standard BlackBerry data plan.
Bayalink Liberty leverages all the benefits of the BlackBerry infrastructure and allows enterprises to easily and securely extend the BlackBerry data off the handheld to the iPad. "Enterprise customers have been very interested in Liberty on these new emerging form factors as they investigate iPads in the enterprise," said Dietrich. "Liberty is a key piece of technology that will help push iPad into the enterprise."
Any organizations or individuals interested in participating in the beta program, please
send an email to beta@bayalink.com for more info.