De Rolling Spider en Jumping Sumo zijn natuurlijk geen echte verrassingen meer. De twee Minidrones werden dit jaar tijdens de CES uitgebreid voorgesteld. Waar de AR.Drone drones speeltjes voor de pappa's zijn, zijn de Minidrones er voor de kids… of misschien toch nog steeds voor de pappa's 😉
De Rolling Spider is een drone die zowel kan rijden als vliegen. De wielen kunnen namelijk loskomen. De Rolling Spider maakt verbinding via Bluetooth 4.0 SMART waardoor de maximale afstand kleiner is dan met de AR.Drone.
De Rolling Spider is te koop in de kleuren rood, blauw en wit. Je krijgt er twaalf stickers bij met mondjes om jouw Rolling Spider naar eigen smaak vorm te geven. De maximale vliegduur is acht minuten. De Rolling Sumo gaat €99 kosten en ligt in augustus in de winkel.
Voor iedereen die lever een springend racemonster in huis haalt is er de Jumping Sumo. De maximale spronghoogte is 80 CM. De Jumping Sumo heeft wel WiFi aan boord en beschikt over een camera waarmee beelden naar je smartphone of tablet worden gestreamd.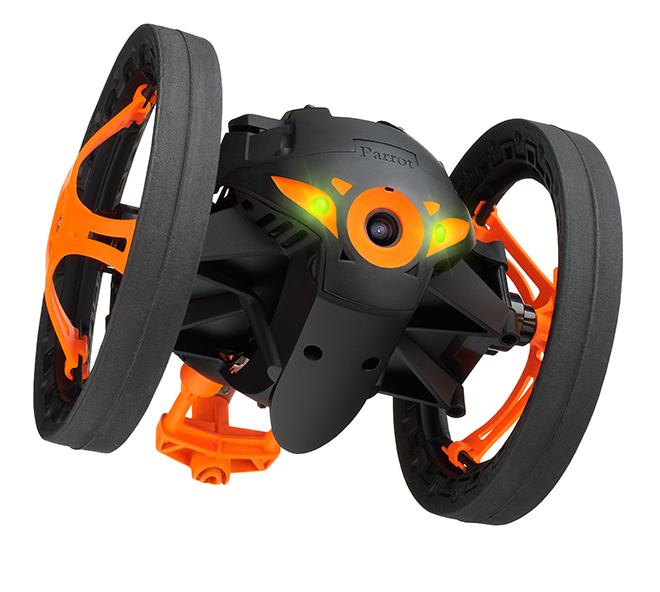 De Jumping Sumo is verkrijgbaar in de kleuren zwart/rood, wit/zwart en kaki/geel. Ook hier zitten weer stickers bij om hem naar eigen stijl vorm te geven, al moet je het doen met drie keuzes. De accu gaat 20 minuten mee en de Jumping Sumo zal in augustus in de schappen liggen voor €159.