MyDaylight, de nieuwe app van Velux is nu te downloaden voor IOS en Android en ondersteunt volledig VR. Met deze app kunnen je een eigen kamer ontwerpen en het werkelijke effect van daglicht visualiseren, met 360 ° -zicht en virtual reality-opties.
Vandaag kregen we een kartonnendoosje met een bouwpakket geleverd. Eenmaal uitgepakt bleek het een VR bril te zijn waar je jouw smartphone in kunt plaatsen. Via de  Playstore heb ik de app gedwonload en de bril opgezet.  Het resultaat is eerlijk gezegd heel tof.
Voor iedereen die gaat verhuizen, een huis-makeover of zolderconversie overweegt is de MyDaylight-app van de VELUX een serieuze toevoeging in het plannen en realiseren van een goed 'daglichtplan.' Vanaf vandaag kun je zien hoe daglicht nieuw leven kan worden ingeblazen en je huis kan profiteren op je iPhone- of Android-smartphone, omdat de app van de dakraamleider op mondiale schaal wordt gelanceerd in de App Store en Google Play Store.
Deze gratis tool, gebouwd met behulp van nieuwe geavanceerde gamingtechnologie, stelt je in staat om het effect van daglicht in een kamer te ervaren en een meeslepende ervaring te krijgen via 3600 en virtual reality-simulaties. Daglicht is van vitaal belang voor onze gezondheid en welzijn. Toch creëren veel gebieden thuis, zonder rekening te houden met de invloed die daglicht kan hebben.
MyDaylight is de allereerste app die daglicht tastbaar maakt, waardoor je ermee kunt experimenteren en begrijpt hoe het een leefruimte kan transformeren. Je kunt een echte kamer in het huis ontwerpen door eenvoudig parameters zoals vloerafmetingen, dakhoogte en plafondhoogte te selecteren en vervolgens verder aan te passen door vensters, vloer- en wandafwerkingen, de locatie van de kamer en nog veel meer toe te voegen.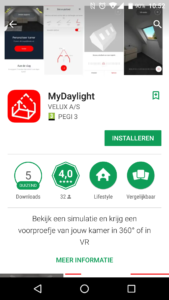 Na ongeveer tien minuten ontvangt u een persoonlijke digitale simulatie die kan worden bekeken in 3600 of virtual reality, waardoor een levensechte recreatie van de kamer en de veranderende effecten van daglicht binnenin ontstaat. Het is zo eenvoudig als dat!