Vandaag biedt iBood de Wacom Inkling aan voor weinig. Nouja, weinig? Net zoveel als Wacom zelf, maar dan zonder verzendkosten. Natuurlijk krijg je dan gezeur op het iBood forum omdat de aanbieding niet heel scherp is. Wanneer iBood getipt wordt dat Komplett nog onder de iBood prijs zit, haalt ene Renate van iBood wel heel fel uit naar Komplett.
iBood haalt uit op het moment dat een gebruiker via de pricewatch van Tweakers aangeeft dat het product bij Komplett minder kost. Vanuit iBood komt de reactie "Vannacht bood komplett dit product nog voor € 133,95 aan. Zo zie je maar dat komplett je eigenlijk elke dag bedondert door veel meer te vragen dan dat nodig is. (zie google cache, zelfs op moment van schrijven staat in tweakers de oude prijs vermeld)."
Daarna volgen meer reacties van Renate en iemand van Wacom over de prijzen van iBood. Tenslotte geeft gebruiker Renate aan dat berichten worden verwijderd. Je kunt alles hieronder doorlezen of surf zelf even naar het iBood forum.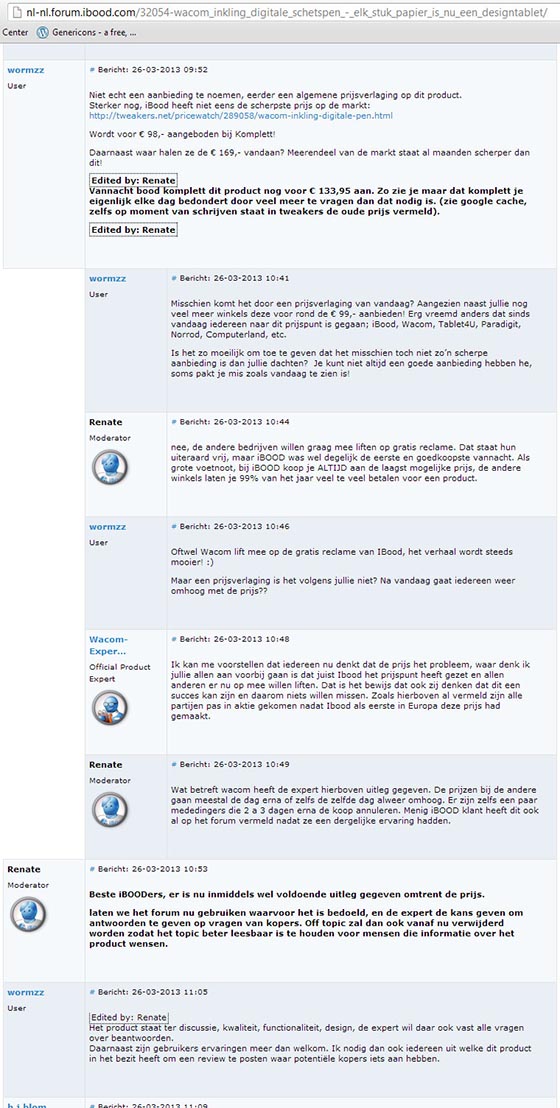 Goed of fout? Ik wil niet oordelen, maar met het vingertje naar de concurrent wijzen is niet heel chique van iBood en ik vraag me af of het handig is van Wacom om hierin kleur te bekennen.