Remington heeft de nieuwe Pioneer PG6050 All in One Kit uitgebracht. Een kit waarin alles zit om je lichaamsbeharing onder controle te houden. Natuurlijk heb je het meest aan deze kit wanneer je een snorretje of een baardje laat staan. Om te kijken wat het best bij jou past, heeft Remington dan ook meteen een handige app uitgebracht.
De Go for the Grow App
Mutton Chops, een Soul Patch, een Three Day Stubble of één van de vele andere vormen van gezichtsbeharing. Kiezen is moeilijk, maar met de app van Remington moet het een stuk makkelijker worden. Laat jezelf, of fotografeer een ander en kijk met behulp van de app welke vorm van gezichtsbeharing het beste bij jou of die ander past.
De app laat niet alleen zien hoe het bij je staat, maar geeft ook nog eens tips over hoe je de boel het beste kan laten groeien en bijhouden. Klinkt ideaal? Het gaat nog even verder. De app kan jouw toekomstige baard of snor namelijk nu al op Facebook zetten (handig om te weten wat anderen er over denken) en bevat ook nog een hele lijst met wetenswaardigheden.
De Pioneer PG6050 All In One Kit
Terug naar de harde waren. De nieuwe Pioneer PG6050. De set bestaat uit een basisunit en vijf verschillende opzetstukken. Denk daarbij aan een brede trimmer, een smalle trimmer (tot 0.2mm), een mini foil scheerapparaat, een lineaire neus-, oor en wenkbrauwtrimmer en een verticale lichaamshaartrimmer voor het zware werk.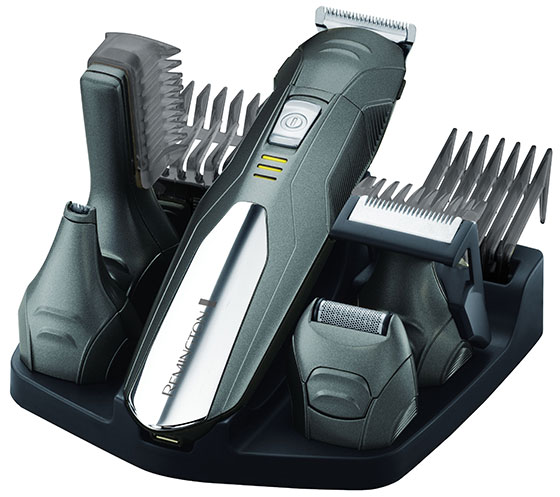 De set wordt aangevuld door 3 opzetkammen zodat je de lengte van de beharing in kan stellen. Natuurlijk bevat de basis unit een accu, maar opladen hoeft niet alleen via het stopcontact. Het kan namelijk ook gewoon via USB. Op een volle lading kan je 40 minuten trimmen en scheren. Natuurlijk is alles te wassen onder de kraan.
Beschikbaarheid
De Pioneer PG6050 gaat €49,99 kosten. Remington geeft 3 jaar garantie op de set.