Of je nu een Chromebox of Chromebook hebt gekocht, je hebt Chrome OS in huis. Wat het is, waar het vandaan komt en wat belangrijk is om te weten, hopen we je in deze FAQ uit te leggen. Zijn er nog onbeantwoorde vragen over Chrome OS of heb je tips? Stel ze gerust in de reacties.
Waar Chrome OS begon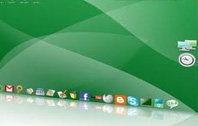 Google lanceerde Chrome OS in 2009. Het is een Linux besturingssysteem dat zoveel mogelijk in de cloud werkt. Eigenlijk moet je het als een computer zien die alleen de Google Chrome browser start.
De hardware wordt op zowel x86 als ARM chipsets gemaakt. ARM kennen we van de spelconsoles, smartphones en tablets terwijl x86 als platform vooral wordt gebruikt voor laptops en desktops.
Qua vormgeving lijkt Chrome OS wel gewoon op besturingssystemen als Windows. Je hoeft dus geen fratsen te verwachten.
De voordelen van Chrome OS
Omdat Chrome OS in de cloud draait, heb je eigenlijk altijd een online back-up. Laat je jouw Chromebook vallen? Gooi gewoon weg en koop een nieuwe. Na inloggen zie je al je bestanden en software terug.
Je kunt wel apps installeren op je Chromebook, maar ook deze zitten grotendeels in de cloud. Anti-virus software heb je ook niet nodig. Daar zorgt Google gewoon voor. Daar staat tegenover dat je ook geen Adobe Photoshop CC of andere zware PC software kunt installeren. Chrome OS is vooral bedoelt om het internet te consumeren, niet om het te maken.
Gelukkig zijn er enorm veel apps en games voor Chrome OS te vinden. Denk aan Spotify, Netflix, YouTube, Facebook etc. Dus als je niet al te grote plannen hebt, zal je jezelf prima vermaken.
Wanneer je een Chromebook koopt, schenkt Google je 100GB aan online opslag op Google Drive. Dit krijg je naast de offline opslagruimte van je Chrome OS apparaat. Het voordeel van Google Drive is dat jouw bestanden relatief veilig zijn bij verlies van de Chromebook.
Moet je altijd online zijn? Nee. Je kunt bestanden en apps ook offline beschikbaar maken. Een permanente internetverbinding is dus niet nodig. Je kunt dan je bestanden natuurlijk niet synchroniseren. Weg is pech…
Door de lichte software, is de hardware van de gemiddelde Chromebook niet echt duur. Daarnaast gaat de accu lekker lang mee. Voor tussen de €200 en €300 koop je dus een lichte, maar sterke laptop.