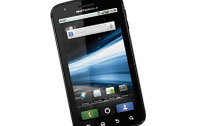 Motorola was een van de meest opvallende bedrijven gedurende de CES van 2011. Eerder hadden we het al over de Xoom tablet en de Atrix 4G. Beide apparaten draaien op de Tegra-2 chipset van Nvidia, wat erop neerkomt dat er veel meer kracht in deze units zit. Een veel genoemde toepassing van die kracht is de mogelijkheid om FullHD 1080p te filmen met de camera functie. Vooral de snelle tegenhanger van de Atrix die LG binnenkort uitrolt, de Optimus 2X, heeft hier vanaf het begin af aan lopen zwaaien als een key feature die nu mogelijk is met de nieuwe chipset.
Het was tot nu toe aangenomen dat de Atrix 4G ook 1080p ging ondersteunen vanaf de launch, maar vandaag blijkt dat veranderd te zijn. In de fact sheet op motorola.com wordt bij het opnemen en afspelen duidelijk aangegeven dat 1080p met een software-update na de launch zal worden toegevoegd.
Nu kan dit natuurlijk twee kanten op gaan. Enerzijds, als de opname en playback van 1080p gewoon belabberd is wil je het niet op je high-tech phone hebben, en het is interessant om te zien hoe dat met de Optimus 2X eruit gaat zien, de eerder geposte voorbeelden scheppen niet heel veel vertrouwen. Anderzijds is Motorola bezig met een diepte investering, top of the line apparatuur met veel nieuwe software. Dit kan betekenen dat ze het gewoon extra goed willen doen, en dat is altijd toe te juichen.