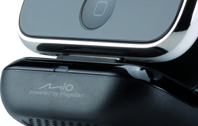 De speciale carkit van Mio werkt volgends de maker met de meeste GPS apps die momenteel in de App Store staan en zorgt onder anderen voor een beter GPS ontvangst.
Naast de verbetering van het GPS ontvangst, is de carkit ook in staat om de iPhone of iPod op te laden en is het mogelijk om handsfree te bellen (iPhone). De carkit beschikt ook over een audio uitgang zodat de speakers van de auto voor gesprekken en navigatie instructies gebruikt kunnen worden. Of het ook mogelijk is om muziek via de radio af te spelen is onduidelijk.
De Mio GPS Car Kit is beschikbaar voor de iPod touch 2e generatie, iPhone 3G, 3GS en natuurlijk de iPhone 4.
UPDATE: Een woordvoerder van Mio heeft aangegeven dat het inderdaad mogelijk is om muziek van de iPod/iPhone over de radio af te spelen.