In 2011 kreeg de horrorklassieker The Thing een remake. Toch is het origineel met Kurt Russel zo sterk, dat Sony tien jaar later het origineel uit 1982 remastered voor een 4K HDR uitgave.
Okay… die The Thing uit 1982 was ook niet echt het origineel. Dat gaat nog wat verder terug. Namelijk naar 1951 toen The Thing voor het eerst werd verfilmd. Toen heette de film volmondig The Thing from Another World. Toch besloot regisseur John Carpenter om de film af te korten naar The Thing…
The Thing speelt af op Antarctica. Op de onderzoeksbasis zijn ze druk bezig een vondst te ontdooien. Het blijkt niet zomaar een lichaam dat de wetenschappers hebben gevonden. Het blijkt te gaan om een buitenaards wezen. Tenminste, dat is het gevoel dat al snel ontstaat.
Langzaam blijkt iedereen op de basis om het leven te komen. De Alien blijkt in staat te zijn om van vorm te veranderen en de vorm van mensen aan te nemen. Het lijkt onmogelijk om er achter te komen wie de alien is en zo een enorme slachting te voorkomen.
Anno 2021 is de uitrol van het verhaal in The Thing wat langzaam geworden. We zijn een veel snellere vertelling gewend. Dit maakt het begin van de film een beetje een slow burner. Wanneer de film echter op gang komt, wordt hij heel snel, heel spannend.
Bonusmateriaal
The Thing bevat zowel een 4K als FullHD disc. Die laatste bevat ook al het bonusmateriaal dat Sony rondom de film heeft. En nee, dat zijn er niet zo gek veel. Toch is er een commentaar track van zowel John Carpenter als Kurt Russell en een special waarin John meer vertelt over hoe hij de film heeft gemaakt.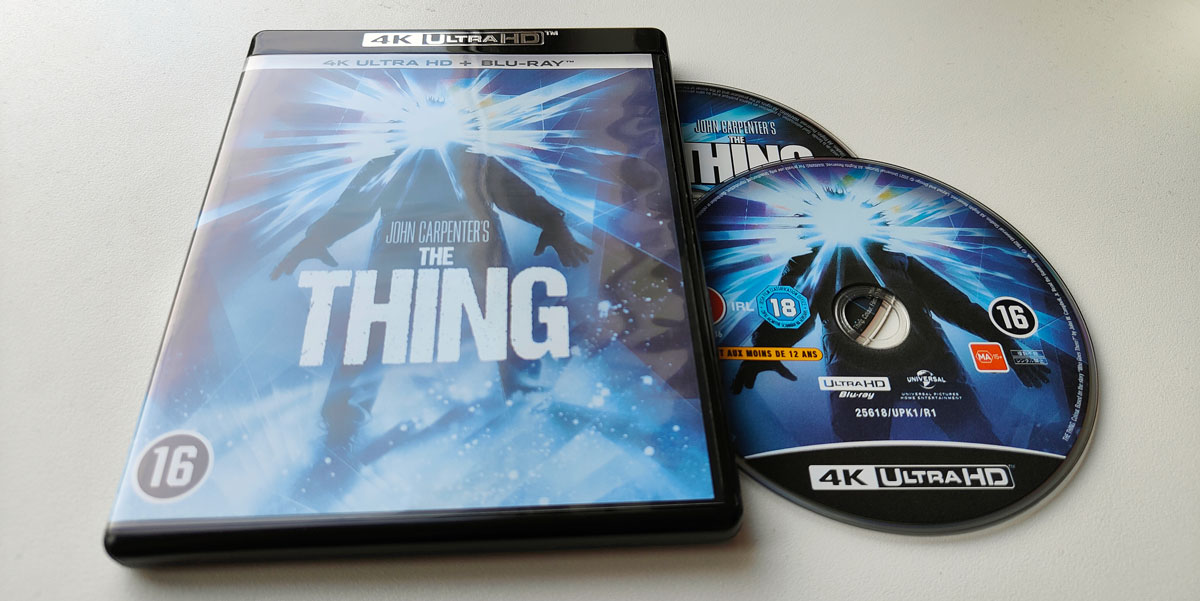 Conclusie The Thing
Een kleine veertig jaar na de bioscoop release durft Sony Pictures het aan om deze horrorklassieker te liften naar 4K met HDR en een sterke DTS soundtrack. Sony heeft duidelijk moeite gehad om de oude filmrollen om te zetten in een nog scherper plaatje, maar is toch behoorlijk ver gekomen. Ook de oude audio-opnamen hebben duidelijk het nodige poetswerk ondergaan. Voor jonge horrorliefhebbers zal de film misschien wat traag zijn, maar als kijker uit de 80's kan ik hier toch zeker nog van genieten.