De marktleider in de aktiecamera markt, GoPro, heeft onlangs de nieuwste versie van hun camera gelanceerd: de GoPro HERO10.
GoPro heeft dit weekend het nieuwe vlaggenschip, de HERO10 Black-camera aangekondigd. De camera heeft een nieuwe, zelfontwikkelde en krachtige GP2-processor. De GP2 levert baanbrekende beeldkwaliteit en verbluffende videoframe snelheden waarmee de HERO10 Black briljante 5,3K-video kan vastleggen met 60 frames per seconde, 4K-video met 120 frames per seconde en 2,7K-video's met een ongelooflijke 240 frames per seconde.
Eigen processor
De nieuwe processor maakt onder andere HyperSmooth 4.0-videostabilisatie mogelijk. GoPro was al de eerste die deze technologie toepaste en nu dus op een hoger nivo tilt. Soepele, shake-free video's als bij de HERO10 Black zijn nog niet mogelijk geweest met een andere camera – ongeacht de prijsklasse, aldus GoPro.
Snelheid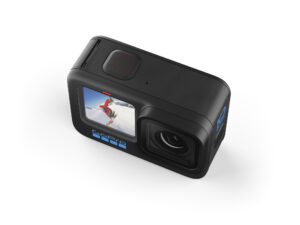 Met de krachtige GP2-processor heeft de HERO10 Black veel te bieden: foto's met een bijzonder hoge resolutie van 23 megapixels, verbeterde prestaties bij weinig licht en een veel responsievere gebruikersinterface.
De lens is weer verwisselbaar en de camera is nu ook met een smartphone via een kabel te verbinden. Geen gedoe dus meer met wifi verbindingen en daarmee accuvreten. Dankzij de kabel is het ouderwets snel beelden downloaden naar jouw smartphone of tablet. Natuurlijk blijft het mogelijk om rechtstreeks ook met een laptop of computer beelden uit te wisselen.
Korting voor online leden
GoPro wil het gebruik van hun cloud platform stimuleren en geeft nu korting op de camera aan leden van het platform. De HERO10 Black is verkrijgbaar voor € 429,98 (RRP) inclusief GoPro jaarabonnement of voor € 529,99 (RRP) zonder abonnement. Bestaande GoPro-abonnees kunnen de HERO10 Black kopen tegen een gereduceerde prijs van € 429,98 op GoPro.com. De HERO10 is herkenbaar aan de blauwe opdruk…