Jaguar Racing heeft online zijn gloednieuwe volledig elektrische raceauto onthuld: de Jaguar I-TYPE 5. Dat gebeurde vijftig dagen voor de start van het zevende seizoen van het ABB FIA Formula E World Championship.
De elektrische E-Jag is voorzien van een nieuwe aandrijflijn, die volledig door Jaguar zelf is ontwikkeld en die het de komende twee seizoenen van het wereldkampioenschap inzet. De ingenieurs van Jaguar Racing hebben zich vooral op een betere efficiency gericht, evenals op minder gewicht en een lager zwaartepunt van de aandrijflijn van de Jaguar I-TYPE 5. De nieuwe wielophanging biedt meer mogelijkheden om de instellingen per circuit aan te passen. Een nieuwe inverter, die de gelijkstroom in de accu sneller omzet in wisselstroom voor de motor, zorgt voor nog betere prestaties. De inverter bevat 24-karaat goud omdat dit materiaal optimaal stroom geleidt.
Sam Bird en Mitch Evans – een van de sterkste rijderskoppels in de Formula E – zijn de coureurs van Jaguar Racing. Evans rijdt al voor Jaguar Racing sinds het team in 2016 zijn intrede in het elektrische kampioenschap deed. Bird, komt over van Envision Virgin Racing. Sam heeft tot nu toe in elk seizoen van Formula E races heeft gewonnen, rijdt komend seizoen voor het eerst voor Jaguar Racing.
Sam Bird, coureur, startnummer 10: "Revealing the new Jaguar I-TYPE 5 to fans today makes it feel very real that I am part of Jaguar Racing and builds excitement to get season seven under way. I think the launch is the biggest milestone away from the track action as it highlights all the hard work the team at Jaguar Racing have been doing in the off-season. Now I can't wait to take the I-TYPE 5 out on circuit and start my first season with such an iconic British brand."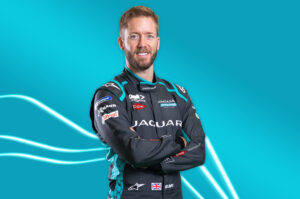 Als officieel fabrieksteam in de Formula E ontwikkelt Jaguar Racing zijn eigen elektrische aandrijflijn, inclusief de motor, de transmissie, de inverter en de achterwielophanging. Om de kosten te beheersen zijn het koolstofvezel chassis en de accu's echter hetzelfde voor alle twaalf deelnemende teams. Daardoor ligt de focus bij de teams vooral op de ontwikkeling van betere elektrische aandrijflijnen, die efficiënter zijn en lichter van gewicht. Op basis van de ervaringen en kennis uit de Formula E kan Jaguar Land Rover de prestaties en actieradius van toekomstige elektrische auto's steeds verder verbeteren.
James Barclay, Jaguar Racing Team Director: "Season seven is a very exciting year for Jaguar Racing and for Formula E. It's the first season Formula E boasts world championship status and is Jaguar Racing's fifth season in the world's fastest-growing global motorsport. The team have worked harder than ever to create the most efficient, state-of-the-art race car and it is fantastic to be able to unveil it to our customers, fans and partners. This season we also welcome Sam Bird into the Jaguar Racing family and he is already settling in very well. Both Sam and Mitch are hugely motivated along with the rest of the team for the season ahead. We'd like to extend a warm welcome to our new partner Dow. The countdown is now on until we're back out on track in Santiago and we will be pushing for points, podiums and wins."