Je hebt een pakket dat wordt vastgehouden. Je moet even de aflevering plannen en daarbij de verzendkosten van €2 betalen om een iPhone 11 van Amazon te ontvangen. Deze spamcampagne teistert momenteel menig mailbox.
"U heeft (1) pakket dat wordt vastgehouden bij het distributiecentrum. Gebruik uw barcode om uw postpakket te volgen en te ontvangen."
Ook op de redactie hebben we deze spam inmiddels van 13 verschillende afzenders ontvangen. Dit zijn domeinen die zijn gekaapt of geregistreerd enkele voor deze spam campagne. Het doel lijkt om op grote schaal betalingen van €2 binnen te halen.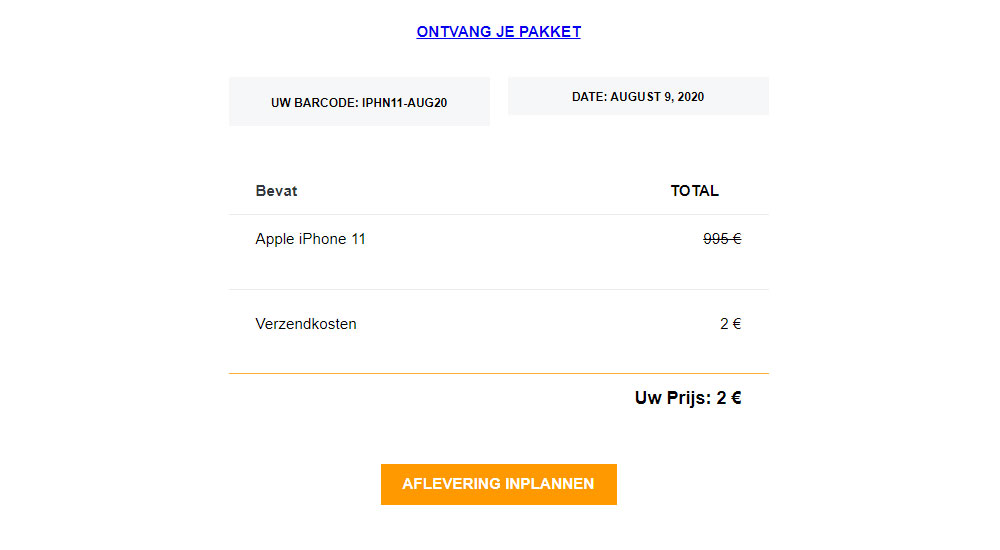 Amazon zou nooit een dergelijke link verzenden. Bovendien mag je verwachten dat een link met een barcode om een postpakket te volgen, vanuit PostNL, DHL of andere verzender komt. Alle bedrijven zouden bovendien vanaf een eigen e-mail adres met je communiceren.