Festool komt met iets nieuws want begin 2017 komt Festool op de markt met een kleine en compacte afkortzaag namelijk de KAPEX KS 60. Over het algemeen beloofd het veel goeds als Festool op de markt komt met een nieuw product maar of dit ook op gaat voor de nieuwe KAPEX KS 60 is nog even de vraag.
Design
Op het eerste oog is met de specificaties in ieder geval niets mis. Een sterke motor die zorgt voor een toerental van 1300-3500 en aantal nieuwe features waaronder led verlichting, een meegeleverde zwaaihaak en extra voetjes waarmee je de zaag kunt ophogen tot de hoogte van een systainer doet vermoeden dat er goed is nagedacht over het gebruikersgemak. Op dit vlak niets aan te merken.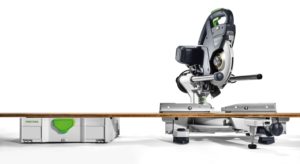 Of dit echter ook geldt voor de veelzijdigheid van de machine is nog even afwachten want met een zaagdiepte van maximaal 60mm lijkt deze machine op het eerste oog niet direct geschikt voor de zware en grote klussen. Dit kan indien je juist opzoek bent naar een compactere machine voor het kleinere werk natuurlijk ook een groot voordeel zijn. Het is tenslotte maar net wat je zoekt. Je kan ook kiezen voor een van zijn grotere broers de KS88 en de KS120.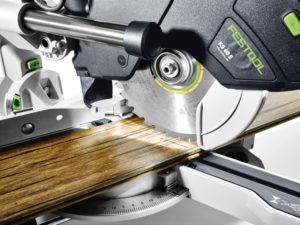 Beschikbaarheid
De nieuwe Festool KAPEX KS 60 wordt in de loop van januari 2017 verwacht en heeft een advies prijs van € 790,-