De herfst komt eraan en dat betekent maar één ding. Zooi in de tuin. Of je nu een tuinmens bent of niet, al die losse blaadjes kunnen een hoop ellende geven. Dit jaar komt Gardena dan ook met twee nieuwe bladblazers. De ErgoJet en de, wat ons betreft eveneens zeer interessante, AccuJet.
Beide bladblazers hebben in ieder geval al één groot voordeel. Ze zijn elektrisch en dat levert minder lawaai op en voorkomt dat je tuintje nog een tijdje naar benzine of andere brandstoffen ruikt.
Gardena ErgoJet
De Gardena ErgoJet is de grootste van de twee en kan behalve blazen en zuigen ook nog eens hakselen. Je hoeft dus niet te bukken om blaadjes op te ruimen en ze nemen ook nog eens minder ruimte in de container in. De blaas en zuigkracht is instelbaar en voor het echt natte blad beschikt deze blazer ook nog even een schraper.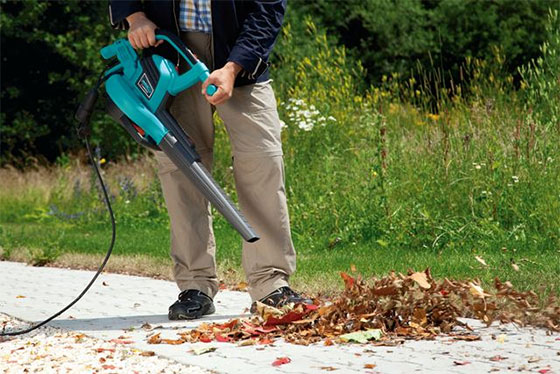 Gardena AccuJet
We zeiden het al, de AccuJet van Gardena is ook een interessante blazer. Oké, hij mist veel functies, want je bent beperkt tot blazen. Je bent echter niet beperkt tot de lengte van je snoer. Deze blazer is handzaam en kan dus overal mee naartoe worden genomen.
Wat de AccuJet wat duurder maakt dan je zou verwachten, komt doordat Gardena heeft gekomen om de blazer met een lithium ion accu uit te rusten. De grondstoffen zijn wat duurder, maar de accu heeft er geen probleem mee als hij maar eens per jaar zwaar wordt ingezet. Traditionele accu's zullen dan snel in prestaties achteruit lopen. Natuurlijk hoef je niet zolang te wachten tot je de accu gebruikt, want het ontwerp van de accu komt overeen met ander accugereedschap van Gardena. Handig dus.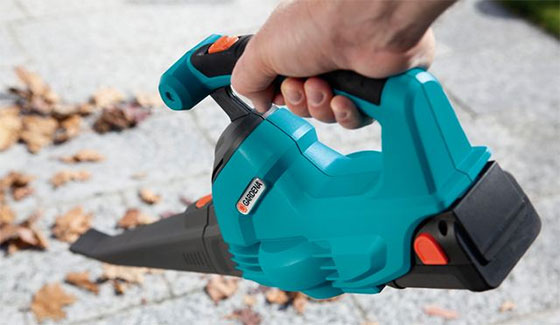 Beschikbaarheid
De ErgoJet kost €99,95 en de AccuJet gaat voor €119,95 over de toonbank.