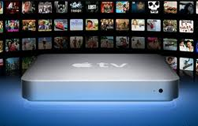 De geruchten dat Apple zelf TV's op de markt gaat brengen worden steeds hardnekkiger. Gezien we toch in de laatste week van het jaar zitten, tijd voor een mooi overzichtje van alles wat we tot nu toe over de nieuwe TV's van Apple lijken te weten. Lijken ja, want het blijven geruchten…
Voor de naamgeving lijkt het een race te worden tussen Apple TV of iTV. iTV is al vaker gebruikt en Apple TV is nu enkel een settop box. Een reden om het Apple TV te noemen is omdat de settop box in de TV geïntegreerd zal zijn. Een reden om het een iTV te noemen is omdat het een nieuw product is in het Apple portfolio.
Als we Digitimes mogen geloven werkt Apple aan plannen voor 32 inch en 37 inch modellen. Wat klein voor in de huiskamer, maar groot genoeg voor op een kantoortje of een studentenkamer. De displays zouden van Sharp komen terwijl de chips uit de fabrieken van Samsung komen. Samsung maakt al langer chips voor Apple waaronder de A4 en A5 CPU's voor de iPhones en iPads.
Gezien de settop boxen al over iOS beschikken, is het de verwachting dat de nieuwe TV's ook van iOS gebruik zullen maken. Er gaan zelfs geruchten over de integratie van Siri op de TV's. Dat zou stembesturing betekenen. Siri zou zelfs in staat zijn om individuele gebruikers te herkennen. Wel handig in het geval dat je niet wilt dat je partner ook kan zappen ;-).
Indien Apple inderdaad met deze producten op de markt gaat komen (Steve Jobs sprak hierover in zijn biografie), is het toch nog even wachten. De producten zouden in dat geval pas in 2013 klaar zijn.