Sony introduceert vandaag twee headsets gericht op gamers. De DR-GA500 en DR-GA200 zijn samen met een aantal pro gamers ontworpen om op die manier een headset neer te zetten die er niet alleen leuk uitziet, maar ook functioneel goed in elkaar zit.
De DR-GA500 is het paradepaardje van de twee. In de koptelefoon zit een volledig 7.1 surround systeem zodat je precies weet wat er om je heen afspeelt. Sony heeft in het ontwerp nagedacht over de druk op de oren en ventilatie om zweetoortjes te voorkomen. Natuurlijk zijn we benieuwd of dat ook echt merkbaar is. Voor wat betreft de kwaliteit van het geluid, gaan we er vanuit dat de koptelefoons gewoon goed klinken.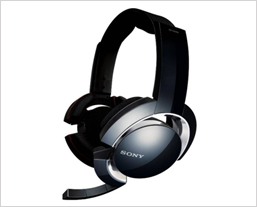 De koptelefoons komen in Oktober op de markt. De simpele DR-GA200 zal een prijskaartje van 80 euro krijgen terwijl de volledige 7.1 ervaring (en dat willen we toch) 170 euro zal gaan kosten. Bij de eerste sets zal Sony een kopie van Medal of Honor meeleveren.