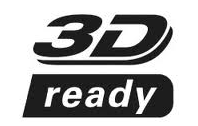 Één van de betere vormen van passief 3D, is 3D op basis van polarisatie. In Nederland werd dit voor het eerst grootschalig ingezet tijdens de opening van Tiësto in Concert waar de duizenden concertgangers naar een live 3D projectie keken.
Net als bij Anaglyph brillen zijn polarisatiebrillen vaak van karton gemaakt. In tegenstelling tot anaglyph is het echter niet mogelijk om ze op een gewone TV of beamer te gebruiken. In de meeste opstellingen maakt men gebruik van twee beamers die elk een gepolariseerde lens hebben hoewel bepaalde 3D TV's deze filters in de LCD laag kunnen activeren.
De grijze glazen van de polarisatiebril bevatten ook een polarisatiefilter. Het ene glas laat horizontale beelden en het andere glas laat verticale beelden door. Hierdoor krijgt ieder oog een eigen beeld. Doordat de beelden tegelijk geprojecteerd kunnen worden, hoeven de projectoren of de TV's geen superhoge verversingsgraad (Hertz) te hebben. Deze techniek geniet op dit moment de voorkeur.