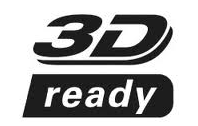 De meeste 3D TV's die op dit moment op de markt komen, komen met Active Shutter brillen. Deze brillen (die ook in de meeste bioscopen worden gebruikt) bestaan feitelijk uit twee transparante LCD schermen die om en om zwart worden.
Wanneer het linker ook zwart wordt, krijgt het rechter oog het beeld te zien dat voor het rechter oog is bedoelt. Wanneer het rechter oog zwart wordt, krijgt het linker oog het beeld te zien dat voor het linker oog bedoelt is. Wanneer je naar de TV zou kijken zonder de bril op, lijkt het dan ook of je naar een 'verschoven' beeld kijkt.
Active Shutter is al behoorlijk oud en wordt al jaren toegepast op traditionele TV's. Het probleem met traditionele TV's is echter dat de snelheid waarop de beelden kunnen worden getoond (Hertz), behoorlijk laag is. Stel je hebt een 60 Hertz TV, dan zouden het linker en het rechter oog slechts 30 beelden per seconde ontvangen in tegenstelling tot 60 beelden bij 2D beeld. Veel mensen zijn hier gevoelig voor waardoor misselijkheid en epilepsie kan ontstaan.
Moderne 3D tv's op basis van Active Shutter zijn dus in staat om minimaal 50 tot 60 beelden per oog aan te leveren. Ook beschikken moderne TV (net als bioscopen) over een draadloos signaal dat de bril synchroniseert met het beeld. Vroeger gebeurde dit bedraad wat nogal lastig kan zijn.
Het kan zijn dat je nu denkt dat je met jouw huidige 100 Hertz LCD, Plasma of LED TV ook gebruik kan maken van active shutter. Die gedachte is juist. Het enige dat je nodig hebt is een 3D Blu-Ray speler met brillen en aansturing voor die brillen. Je hoeft dus geen speciale 3D TV te kopen.