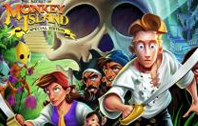 Deze week bekijken we naast Pang nog een retro game. Dit keer heb ik het over de iPhone versie van The Secret of Monkey Island Special Edition ofwel Monkey Island SE van Lucas Arts. Voor diegenen die de game niet kennen, in de jaren 90 was Lucas Arts bekend om een hele serie point & click games. Monkey Island was zonder twijfel de beroemdste.
In deze game speel je als Guybrush Threepwood en heb je maar één missie; je wilt piraat worden. Al snel wordt je meegenomen in de vreemde legendes en mini games die het eiland rijk is. Door objecten te zoeken, combineren en weer af te geven aan de juiste personen baan je je een weg door dit verbazingwekkende verhaal.
De Special Edition is ontworpen om gespeeld te worden op consoles zoals de X-box. Om die reden zijn alle scènes opnieuw getekend en is de originele cast van stal gehaald om alle stemmen opnieuw in te spreken. Verder lijkt er niets aangepast te zijn behalve de Gameplay. De gameplay is aangepast om met een controller of touch interface te werken. Echter heb ik het idee dat de oude Point & Click interface beter op zijn plaats zou zijn geweest gezien ik voor mijn gevoel net iets teveel handelingen moet verrichten.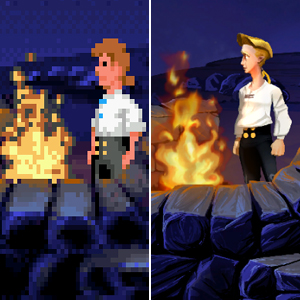 Zelfs als je geen held bent in Point & Click games, is Monkey Island gewoon een leuk stukje vermaak. Gebruik gerust een walkthrough om de weg te vinden, dat deed immers iedereen die in deze game vast kwam te zitten. Met € 4,99 is de game stevig aan de prijs, maar je krijgt er dan ook veel voor terug. Voor de echte fans is ook de Monkey Island Special Edition FX app te downloaden. Via deze app kan je op elk moment de bekende oneliners uit het spel laten horen.
Graphics: 9
Gameplay: 6
Geluid: 9
Totaal: 8
Testtoestel: iPod Touch

Deze Gadgeteer zegt: "Look behind you, a Three-Headed Monkey! Ohwwwww, wat heerlijk!"