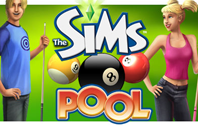 Als er één merk is dat EA echt perfect heft opgebouwd, dan is het wel The Sims. Met The Sims Pool komt EA Mobile dan ook met een pool game waarin The Sims de hoofdrol spelen. Hoewel het klinkt als een must-have voor de fans, zijn wij nieuwsgierig of de game wel leuk is voor de pool speler en of The Sims echt iets toevoegen aan het geheel.
De game begint met het aanmaken van jouw eigen Sim. Je hebt de keuze uit 3 mannelijke en 3 vrouwelijke karakters waarvan je de kleuren van de kleding zelf aan kan passen. Gevorderde spelers krijgen gelukkig meer opties en kunnen zelfs de pool tafel naar eigen inzicht inkleuren.
uiteraard is het de bedoeling om de beste poolspeler te worden. Dit kan aan de hand van de Engelse of Amerikaanse Pool regels. Iedere overwinning is goed voor jouw reputatie en de stapel fans en groupies die naar jouw wedstrijden komen kijken neemt dan ook al snel toe.
Naarmate je langer speelt, zal het spel zich aanpassen en zullen tegenstanders lastiger worden om te verslaan. Helaas is het wel zo dat wanneer je besluit om helemaal opnieuw te starten, je eerst weer alle makkelijke tegenstanders weg moet werken.
Als toevoeging beschikt de game ook over een multiplayer modus. Je geeft hierbij de telefoon aan elkaar door, dus je hoeft geen tweede telefoon met dezelfde game te gebruiken.
Graphics: 8
Gameplay: 8
Geluid: 6
Totaal: 7.3
Testtoestel: Nokia N95
Deze Gadgeteer zegt: "The Sims Pool is gewoon een hele leuke en goede pool game geworden en is een goede variant op al de serieuze pool games die momenteel de markt domineren."