De Escape Room bordspellen zijn enorm bekend in Nederland. Vanuit Identity Games hebben ze nu een leuke twist op het genre bedacht. In Escape Room Puzzle Adventures Secret of the Scientist combineren de spellenmakers een escape room met een echte puzzel.
Unboxing
Hier gaan we dus niet al teveel over vertellen. Zoals bij meerdere creatieve uitspattingen van Identity Games mag je deze doos echt niet uitpakken voor je begint met spelen. Dat zou teveel weggeven. Dat gaan wij dus ook niet doen in deze review. Wel kan ik zeggen dat de afwerking van de onderdelen zeer goed is.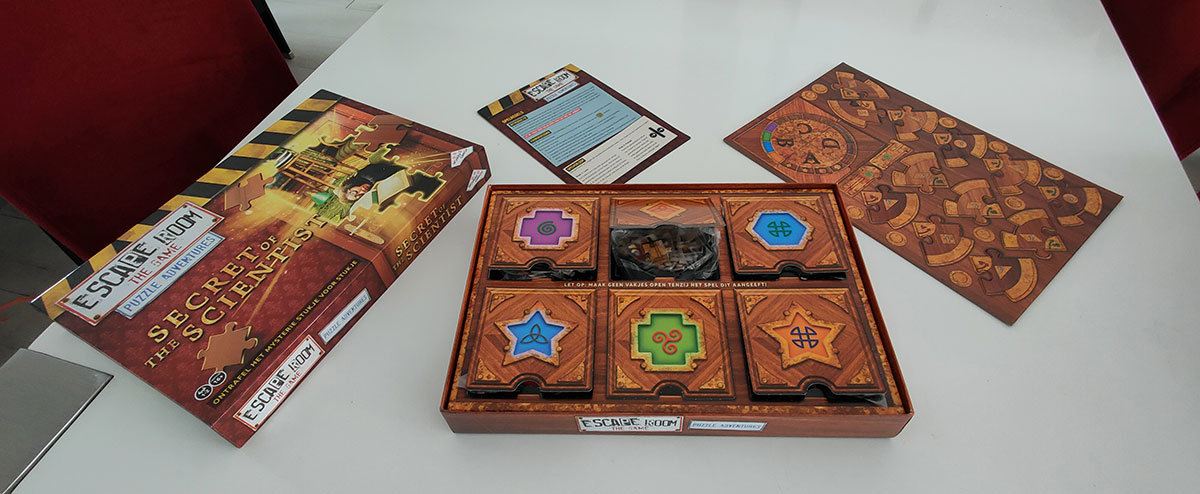 Printables
Net als bij andere Escape Room games, kun je op verschillende onderdelen schrijven en scheuren. Je kunt vanaf de website de printables downloaden om zelf nieuwe exemplaren te maken van alle hint papiertjes. Pak je gewoon een potlood en een notitieblokje, dan hoef je helemaal niets onbruikbaar te maken aan het spel. Handig, want dan kun je het nog eens doorgeven aan vrienden, familie etc.
Escape room of puzzel modus
Aan het begin van Escape Room Puzzle Adventures Secret of the Scientist wordt je meteen voor een interessante vraag gesteld. Wetende dat je het spel maar één keer kunt spelen (zoals altijd in dit genre), moet je kiezen tussen puzzelmodus of escaperoom modus. Bij die laatste gebruik je counters voor iedere hint die je gebruikt en moet je een timer mee laten lopen. Helaas niet via de app of via de key machine die je normaal bij deze serie gebruikt. Wij hebben de timer gelaten voor wat het is.
Aantal spelers
Escape Room Puzzle Adventures Secret of the Scientist is gemaakt voor 1 a 2 spelers. Nu zijn wij al behoorlijk wat van deze titels gewend, dus met twee spelers gingen we stiekem wel heel snel door de puzzels heen. Voor ervaren escape room spelers zou ik aanraden om deze lekker in je eentje te doen en dan te accepteren dat je wat meer tijd kwijt bent. Het spel is gemaakt voor 16+. Niet omdat het eng is, maar omdat je toch een beetje een beeld van de wereld moet hebben om door de puzzels heen te komen.
Conclusie Escape Room Puzzle Adventures Secret of the Scientist
Identity Games zoekt met Escape Room Puzzle Adventures Secret of the Scientist de hybride tussen de escape room en de puzzel. Een mooie, creatieve uitspatting van de spellenontwerpers. Door alle puzzelstukjes bijna gelijk te vormen is het best een gepriegel om de puzzels in elkaar te zetten. Daar ben je dan ook de meeste tijd mee kwijt. Ten opzichte van andere Escape Room games van het merk, zijn de raadsels wat minder spannend. Zoals gezegd, kan de ervaren speler deze beter solo spelen om echt lekker lang bezig te zijn. Het is een leuke twist om op deze manier te spelen, maar gaat Identity Games door met deze lijn, hopen we wel op iets meer uitdaging in het spel zelf.