Het gerucht gaat dat rijke mensen een landgoed hebben in Vermont. Op dat landgoed jagen ze op andere mensen. En dat gerucht, blijkt een kern van waarheid te bevatten.
Door de jaren heen is het thema van een vermakelijke jacht op mensen in meerdere films en zelfs games op beeld gezet. Van The Condamned in 2007 tot de beroemde Hunger Games films enkele jaren geleden. In The Hunt verkent regisseur Blumhouse (bekend van The Purge) het onderwerp op een meer satirische manier.
The Hunt gaat namelijk niet om de gewone man, maar de elite zakenwereld in de VS die alles zou kunnen kopen en natuurlijk de 'wappies'. De mensen die zich verzetten tegen de wereld zoals deze is en overal een samenzwering achter zien. Denk aan Q verhalen als dat de groten der aarden zich zouden voeden op babybloed, worden vervangen voor het verhaal dat de rijken plezierjachten organiseren waarbij ze jagen op hun medemens. En wat als dit nou helemaal geen gerucht blijkt te zijn, maar pure waarheid? En wat als deze rijken een selectiefoutje maken als het gaat om de prooi in hun achtertuin?
The Hunt is het waanzinnige verhaal van de Crystal (Betty Gilpin) en Athena (Hilary Swank) die in deze film als aartsvijanden tegenover elkaar blijken te staan, maar vertelt vooral de boodschap dat het beter is om 'normaal' te zijn.
Extra's
Wij ontvingen The Hunt op Blu-Ray. De film is in FullHD met een DTS Master Audio, DTS Digital Surround en Dolby Audio track. Naast de film heeft Universal het nodige bonusmateriaal op de disc geplaatst. We zien hoe de film is gemaakt, maar veel interessanter is Hunter of Hunted. Daar wordt eigenlijk ingegaan op de laatste minuten van de film, dat de nodige vraagtekens oproept. Leuk zijn de breakdown van de death scene.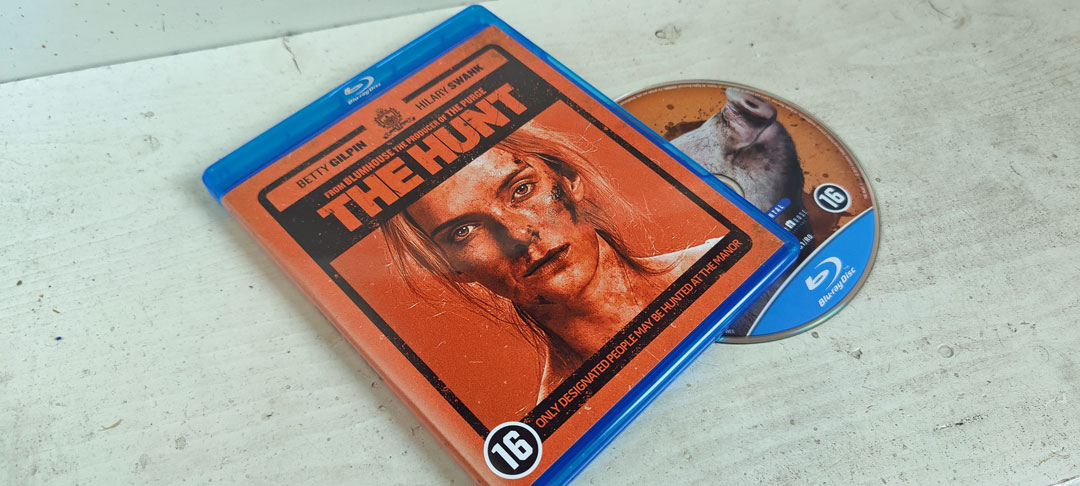 Conclusie The Hunt op Blu-Ray
The Hunt geeft echt even een andere swing aan het thema mensenjacht. Door de strijd te laten spelen tussen de elite en de wappies is de film lekker actueel. De speelduur van The Hunt ligt op 89 minuten en dat maakt The Hunt ook een film die je lekker even op een doordeweekse avond kunt pakken.