Hebben we het normaal over snoerloze stofzuigers, of stofzuigers die zelf zuigen, heeft Rowenta deze week een andere primeur te pakken. Het bedrijf introduceerde deze week de stilste stofzuiger ter wereld. Daarbij mag je nog kiezen tussen een zak- of zakloze zuiger.
Met namen als de Silence Force Extreme en de Silence Force Extreme Cyclonic zijn het zuigertjes die duidelijk ook op de man gericht zijn. Deze stofzuigers zijn het resultaat van maarliefst 15 jaar onderzoek.
De belofte voor de stilste stofzuiger is niet geheel ongegrond. Het Duitse testinstituut SLG heeft Silence Force Extreme namelijk beloond met een vijfsterren-classificatie op het gebied van geluidsreductie. Dit is het hoogste niveau dat voor stofzuigers ooit is behaald. Geluid wordt gemeten in decibel dB(A), en een vermindering van drie decibel klinkt als de helft van het geluid. Een gemiddelde stofzuiger produceert 78 dB(A) aan geluid. Rowenta's Silence Force Extreme geeft slechts 62 dB(A) aan geluid af. Dit betekent dat de Silence Force Extreme veertig keer zo stil is dan de gemiddelde stofzuiger. Dat is overigens voor de versie met zak. Koop je de zakloze variant, dan produceert de zuiger 68 dB(A).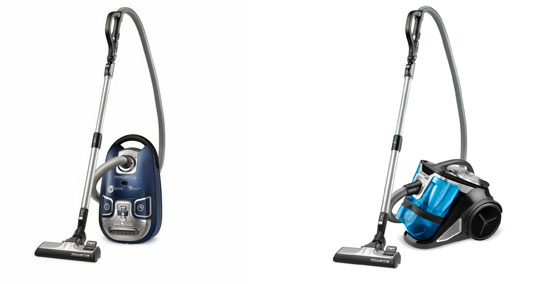 Beschikbaarheid
Rowenta verkoopt in Nederland beide versies. De Silence Force Extreme met stofzak heeft een geadviseerde verkoopprijs van €269,-. De versie zonder stofzak kent een geadviseerde verkoopprijs van €349,-.